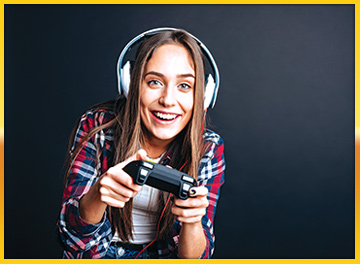 September 7 , 8
Playing Games
來玩線上遊戲
Ruth Devlin
Many people enjoy playing games on their computers or smartphones. There are new games every year, but many old favorites still have fans. There are many different kinds of games. In some games, players must match things. In others, characters have to run, jump and collect coins or jewels to pass levels. In some games, players build villages and raise armies.
Find It
What do players do in James' game?
Conversation A
(in the office)
Sara: Hi, James. Could you take a look at these reports?
James: Uh-huh, sure.
Sara: Can you help me now?
James: One minute . . . All right! I just passed another level.
Sara: Were you playing a game on your phone?
James: Yes. I was playing my favorite game, Running Trains.
Sara: Do you have to match things in that game?
James: No, players run and collect coins and jewels.
Conversation B
Sara: Do you play games on your phone a lot?
James: Yes. I play them on my computer, too.
Sara: You can waste a lot of time playing games.
James: I don't waste time playing them. They make me think.
Sara: Well, maybe.
James: You have to plan carefully. I build villages and raise armies in another game.
Sara: I can think of better things to do with my time.
Questions
1. What does Sara want James to do?
2. What is your favorite game? Why?
想多讀一些嗎?在空英商城購買「大家說英語」雜誌APP可以跨iOS及Android兩大系統使用,並提供各種學習功能。
立刻點擊此處訂閱